Stone-cut figurine "Dog"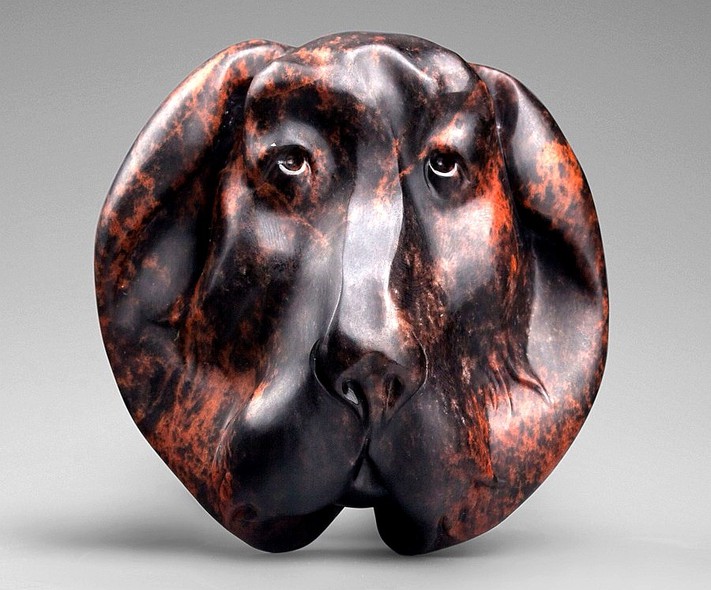 "Dog" a series of kinetic toys "Yulki"Made of natural obsidian stone, completely handmade.Among the vast variety of compositions and plots, there is a constantly growing series of images with a special author's irony and immediacy of the observer. These are animal miniatures, which can be safely assigned the status of "toys". Pick it up, examine it, notice all the smallest details and spin it like a top, so much so that the bright pattern of the stone will spin in a colorful whirlpool, playing out a childish fantasy of a seemingly large adult.In this "dialogue" the material suggests the development of the image, making the figures recognizable. Red-red hematite jasper with dark inclusions conveys the effect of the stripes on the tiger's coat. Obsidian resembles the texture of a monkey's skin or the color of a dog's coat with a unique natural pattern.
Obsidian helps fight stress, fatigue, depression, neurosis. Gives strength and calmness. The mineral is considered a stone of victory over evil spirits and negative character traits. Obsidian helps streamline thinking, develops logic. This is especially pronounced at the moment of danger - a person does not panic, but acts calmly. It removes evil intentions, gossip, long tongues, protects against energy vampirism.
Author:
Sergey Alexandrovich Falkin - (born November 10, 1955, the village of Zaigraevo, Zaigraevsky district, Buryat ASSR) - Russian sculptor, stone cutter, graphic artist. Member of the Union of Artists of Russia. Participant and winner of fine and jewelry exhibitions in Russia and abroad. Member of the World Club of Petersburgers since 2004. Member of the Expert Committee of the Igor Carl Faberge Foundation.