Antique big vase "Dragons in waves"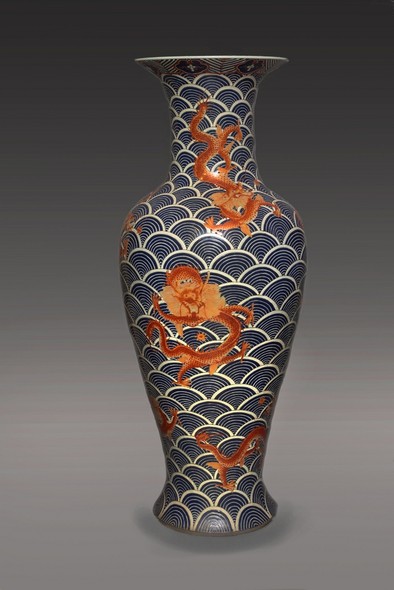 Antique porcelain vase dragons with waves. China, XXth C.
This product is a sample of china made in China. This vase with oovoidny body, passing into a small cylindrical neck with a bell. The vessel is decorated with overglaze enamels. The circular composition represents the waves of the World Ocean in the form of regularly alternating semicircles. They are transferred to cobalt blue and white enamel envelope. 8 dragon figures painted with iron red paint stand out against the background of the waves. They are presented soaring in different complex angles. The artist applies iron paint very masterly - here there is both a gentle erosion, and a more dense application that conveys the ridges of mythical animals, and hatching with a brush tip, in particular, when transferring shot-up manes.
In the decoration of this monumental vase used traditional "Dragons among the waves of the sea." It is known that the image of the dragon Lun plays a special role in Chinese mythology and art. He acquired his fabulous appearance as a result of combining elements of several animals: a large snake, a crocodile, a tortoise, a lizard, a tapir, and some others, which in antiquity were totems of different tribes.