Antique dining table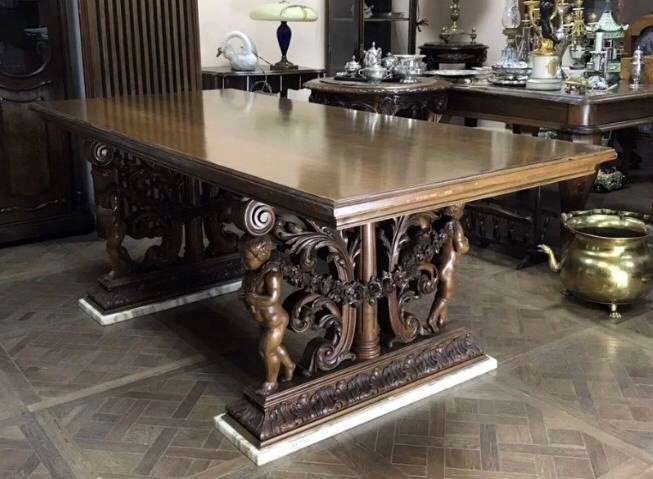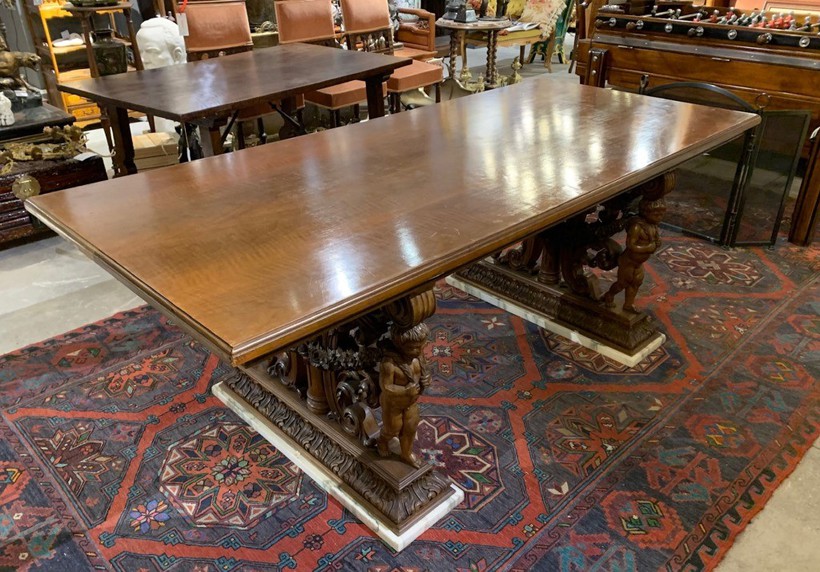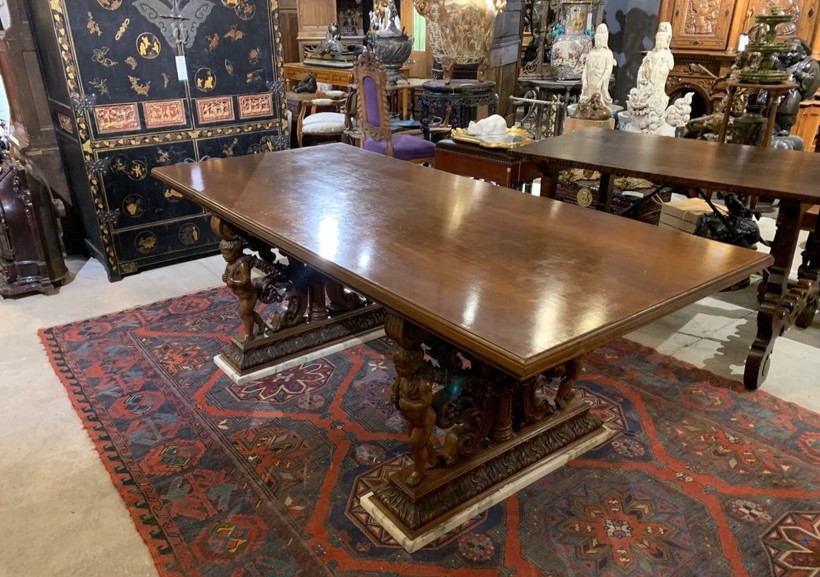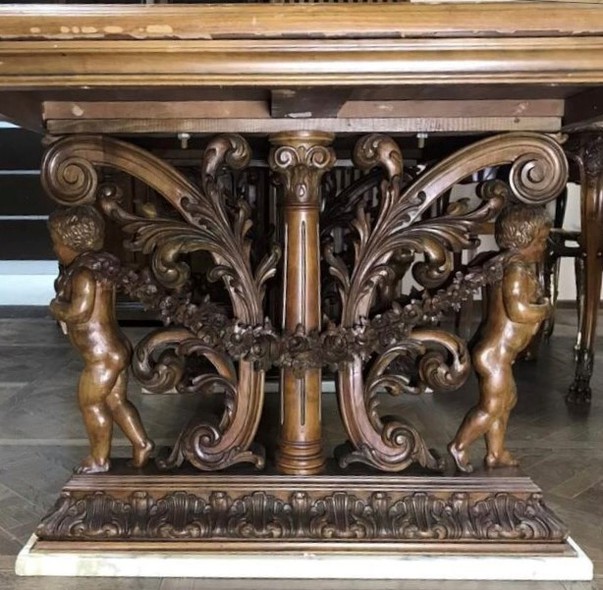 Magnificent neo-gothic style dining table. Underframe - marble. The table is an array of walnut, with figuratively slotted carving. France, 19th century
Figurative - slotted carving is one of the most impressive types of woodwork, combining the sophistication of execution and the "external simplicity" of execution. With the passage of time and the invention of machine tools, the work of a woodworker has certainly become simpler and clearer; in ancient times, in order to cut out a certain pattern, they first drilled holes using an analogue - a rotator. Next, slotted holes were already cut with a bow saw.This table impresses with its attention to detail. Its base is a true work of art. The entire structure is completely carved and ennobled with white marble. Four putti figures at the base are decorated with carved ornaments in the form of acanthus leaves and floral motifs. Acanthus is a thorn, a thorn, a plant that originates in the Mediterranean and Asia. By itself, it has narrow, sharp spines. In antiquity, this is one of the most common motifs in architecture and art. The Romans used the "bear's paw" plant, a type of acanthus with wide and curved leaves, which adorned the capitals of the Corinthian order. This kind of decor is found in the Italian Baroque and Renaissance. In the art of Byzantium, acanthus is a symbol of life; in the era of Louis XVI, a pattern of acanthus leaves meant a connection with the traditions of the ancient world.
If we turn to the Christian tradition, then the acanthus is equated with a crown of thorns - a symbol of sacrifice and the torment of Christ. In addition to the symbol of life, the acanthus carried the symbolism of suffering, compassion, awareness of sin. In Gothic art, acanthus is found more than often, as a symbol of life, growth, movement.
19th century - a kind of unification of artistic styles, a tribute to the past and its discoveries in the field of art, a tribute to traditions, eras were combined to create unique objects of art, interior, monuments, because such ornaments can also be found in stone in the decoration of cathedrals and houses. Many styles, speaking of Neo-Gothic, have become historicism, combining old ornaments and becoming a legacy and continuation of the past in the present.
Antique dining table
539 000

Added in Request List

Antique dining tableRef nr. 02_0746
Галерея «БерсоАнтик» принимает на комиссию и покупает предметы антиквариата!