Antique panel "Monkeys"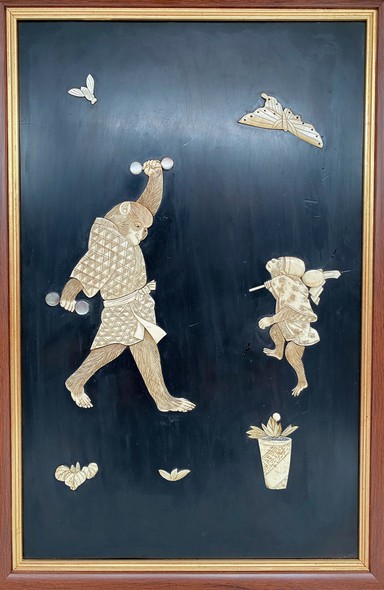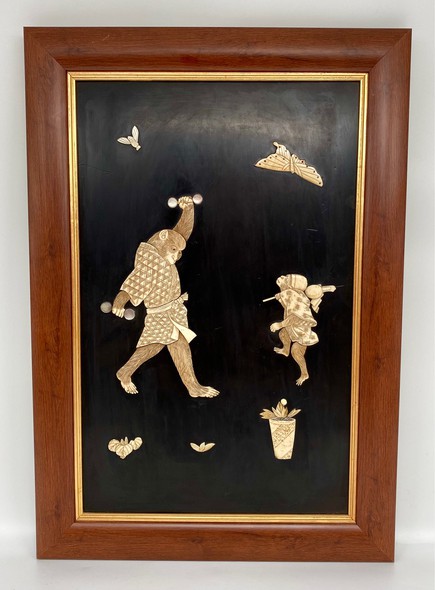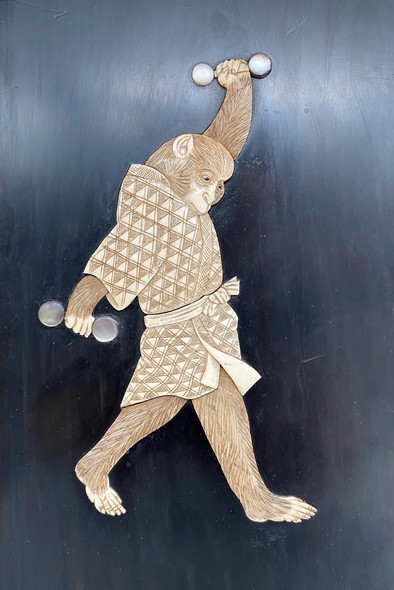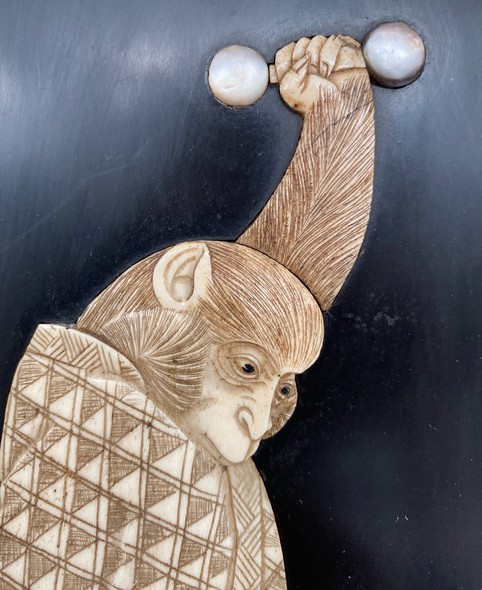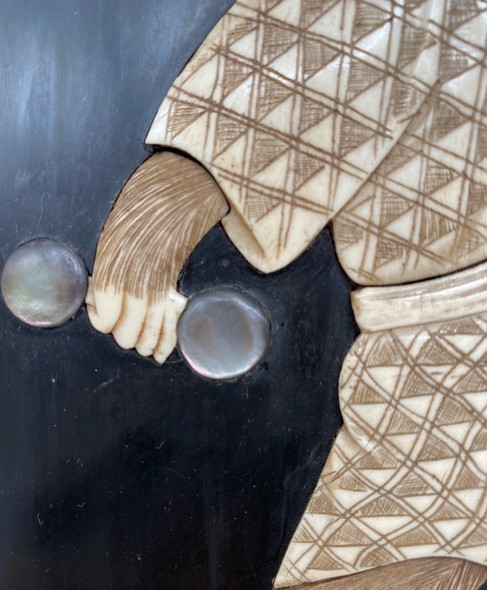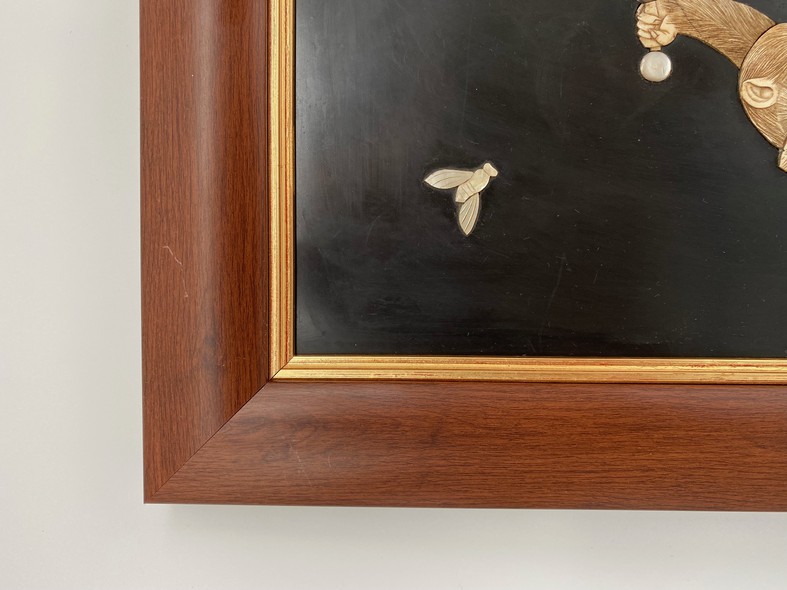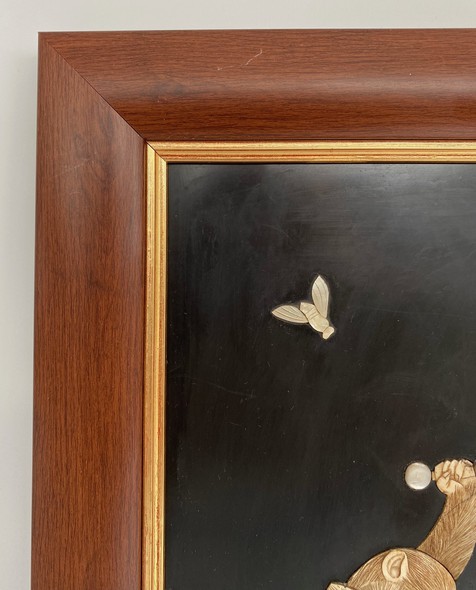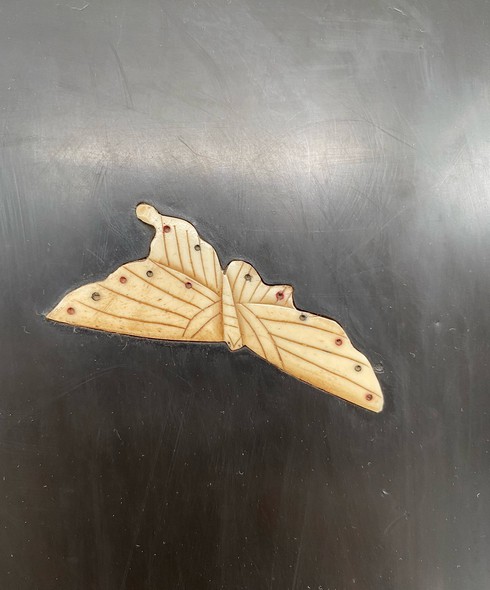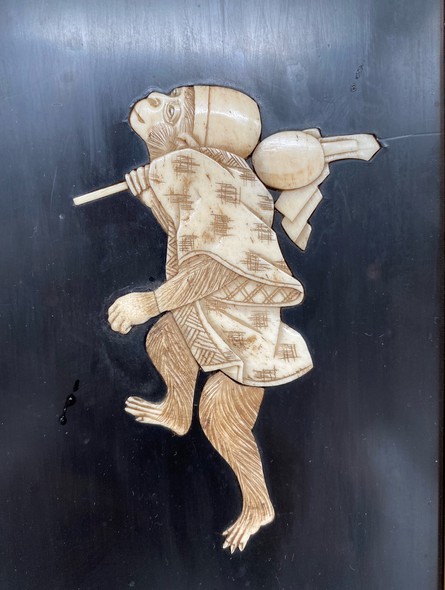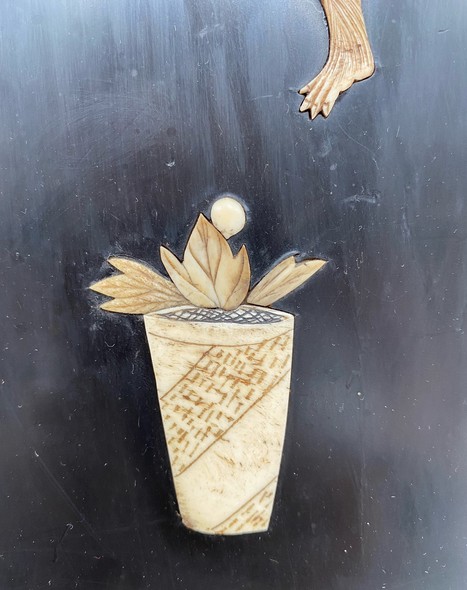 Antique panel "Monkeys". Wood, bone, mother-of-pearl, lacquer. Japan, XX centuryThe panel is made by applique decorative elements of bone and mother-of-pearl (rods) on a wooden surface. There is a stamp - the author's mark in the lower right corner.The cultural significance of the image of the monkey in Japanese history has changed diachronically. Since the 8th century, the monkey has been a sacred mediator between gods and humans. In the 13th century, the monkey became a "scapegoat" for dishonest people. This role remained with the monkey until the 17th century, when the monkey began to embody the negative trait of man's stupid imitation of man. The most significant image is found in Chinese mythology, the monkey king Sun Wukong, who knew the void, appears in the great Chinese novel Journey to the West in 1592. Sun Wukong is an immortal demon who received exceptional power from long years of spiritual cultivation and rebellion against birthright of heaven. (Like Lucifer in Christianity, he is exiled to an earthly prison, where the king repents, becoming a monk and using his power for the benefit and protection of the monk Xuanzang on his way to India).Notorious monkeys with closed eyes, mouth and ears - san-zaru - are reminiscent of the cunning of monkeys, which can often be called real rascals. The Sanzaru originate from China and India. These sculptures were brought to Japan by the monk Dengyo Daishi. Three monkeys: Mizaru, Iwazaru, Kikazaru, "I don't see anything", "I don't hear anything", "I don't say anything" speak eloquently about the fact that you should not always pay attention to negative qualities or spread about it, they kind of store the owner from the evil eye and other messenger monkeys, so that they could not tell what they saw and heard.The monkey, due to its resemblance to a human, is suitable for ridicule or criticism of human behavior. In literature, in painting, you can find caricature images of eminent people. The image of a monkey can be found in lacquer miniature, in the manufacture of netsuke or tsuba (sword guard), in ink painting.
Antique panel "Monkeys"
199 000

Added in Request List

Antique panel "Monkeys"Ref nr. 02_2104
Галерея «БерсоАнтик» принимает на комиссию и покупает предметы антиквариата!