Antique Cleopatra portrait painting
Ref nr. 52_6476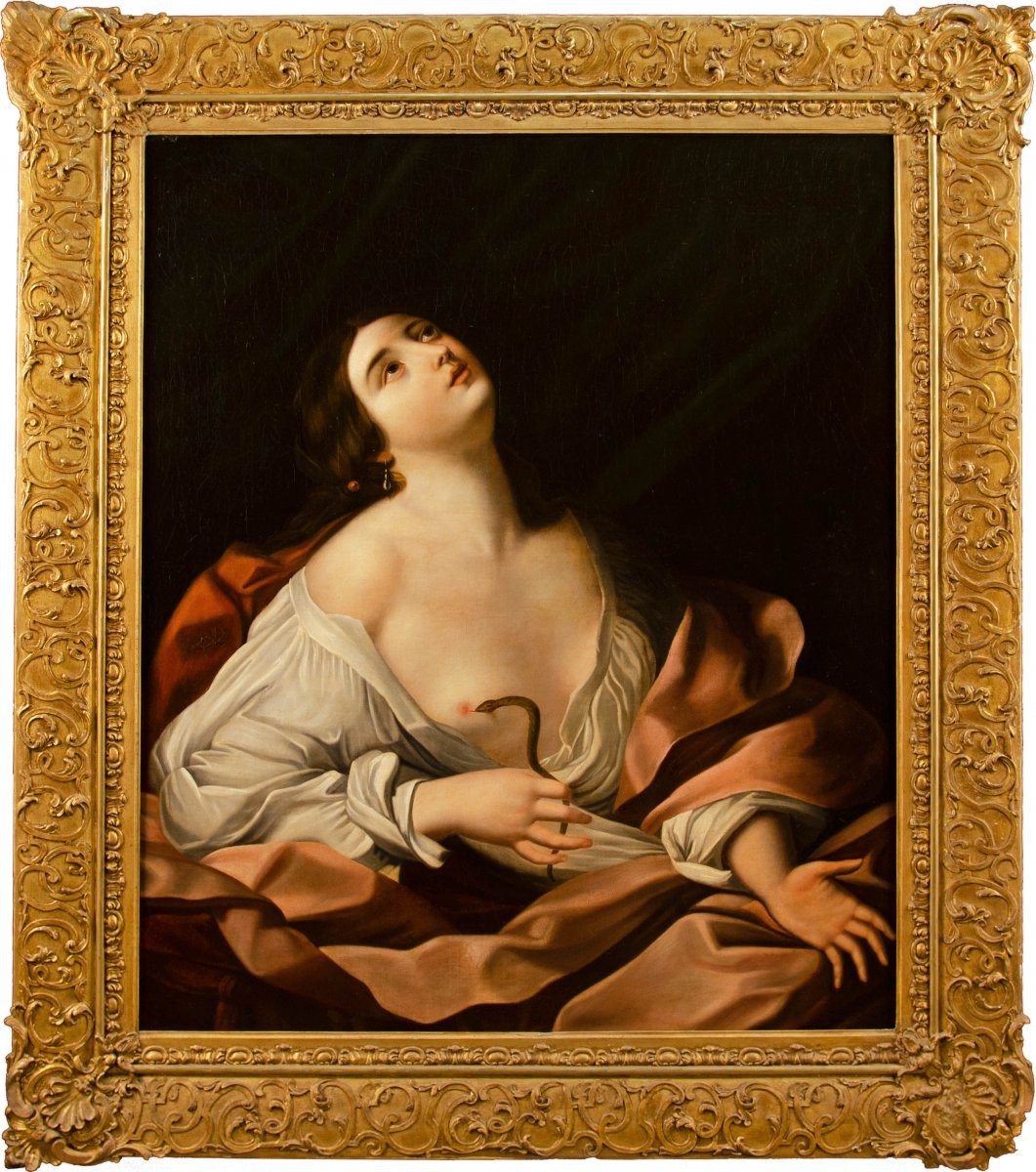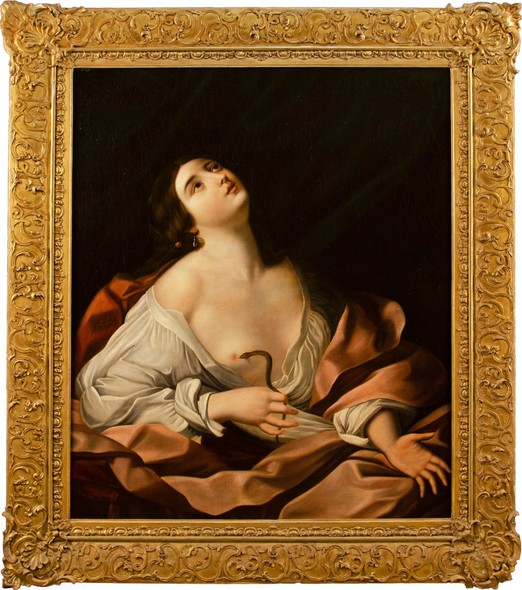 Desription:
Antique painting "Cleopatra". Oil on canvas, frame - wood, gilding. The work of a Roman artist of the late 18th and early 19th centuries.
Cleopatra is depicted on the canvas at a rather poetic and tragic moment in her life. Her face seems aloof, at the same time, she is calm and conscious. On her chest is a snake, an adder, as many believe, which she put to her breast and took her own life. Legend says that the queen of ancient Egypt committed suicide in order to avoid what awaited her with the emperor Octavian. She died from a snake bite, or possibly a venomous Egyptian cobra. I must say that the asp in Ancient Egypt was associated with royal power, the cobra was a symbol of the goddess Isis, who was revered by Cleopatra. The heads of the pharaohs and queens were decorated with snakes, the snake is a symbol of wisdom, magic, which is confirmed by a large number of artifacts found during excavations.
The opinion of one Egyptologist haunts many interested in the history of the Ancient World: how could Cleopatra, who loved snakes and who willingly put them into bed with her, could have left like that? In addition, the version of suicide originated from the memories of Emperor Octavian, who, calling himself Augustus, turned a layer of civilization into an echo of the Roman Empire. Biographers and Egyptologists note that Queen Cleopatra was a very active and domineering woman, capable of controlling not only men's hearts, but also empires, thus posing a great threat. Over the centuries, it remains only to guess what actually happened, which gives the masters of art either a free interpretation of events, or an expression of their perception of this tragic moment.
Added in Request List
Antique Cleopatra portrait paintingRef nr. 52_6476
Available:

Inquire
In section:
Dimensions:

Холст H-105, W-87 cm
В обрамлении: H-134, W-116 cm
Style:
Period:
Request More Info
---
Галерея «БерсоАнтик» принимает на комиссию и покупает предметы антиквариата!