Decorative vessel with handles from the Edo period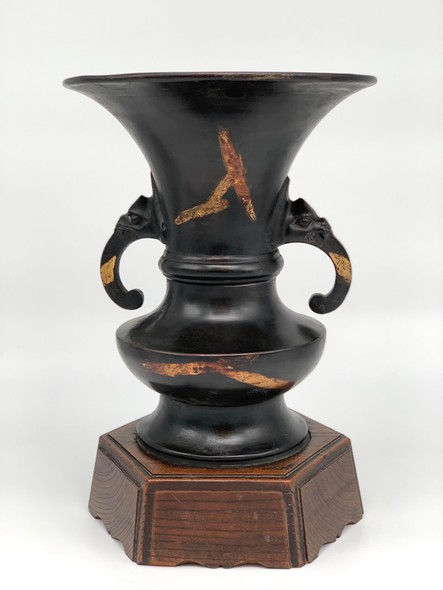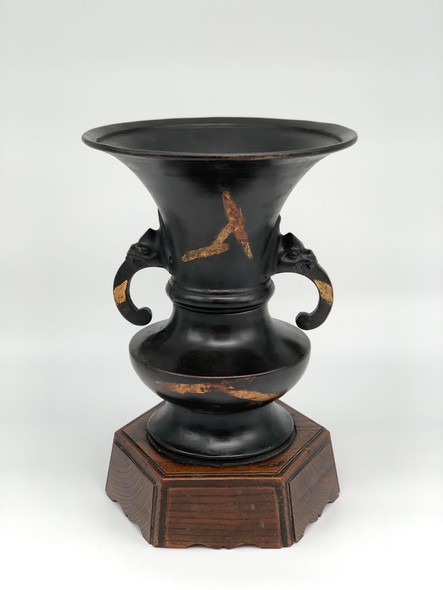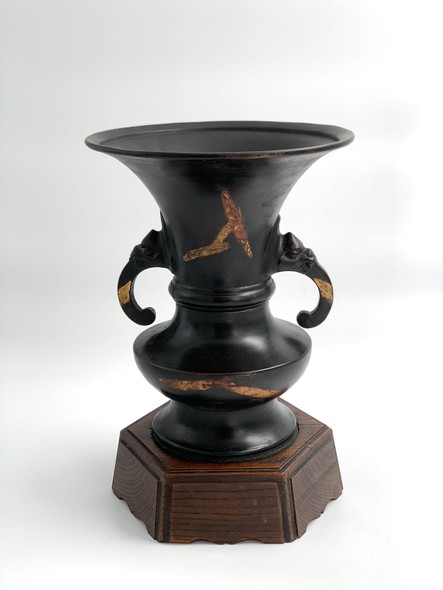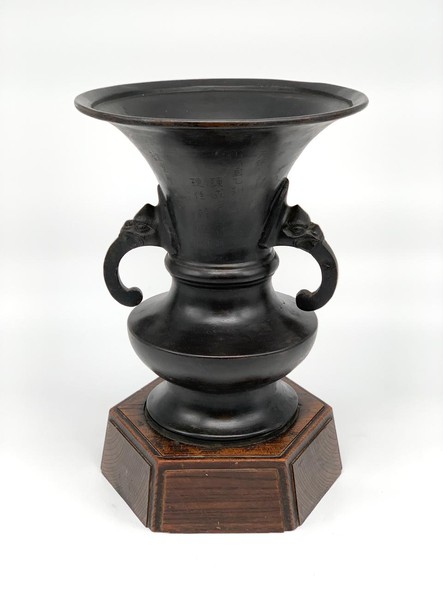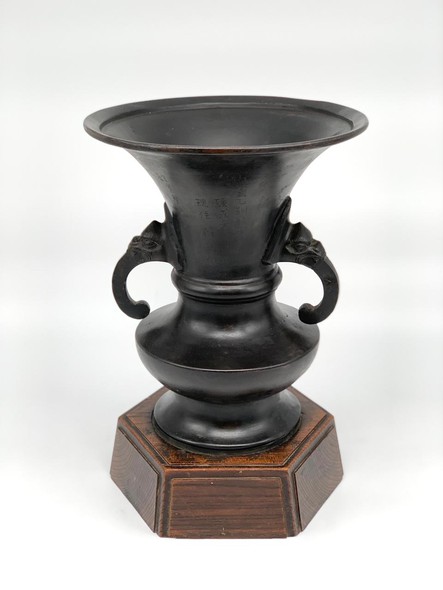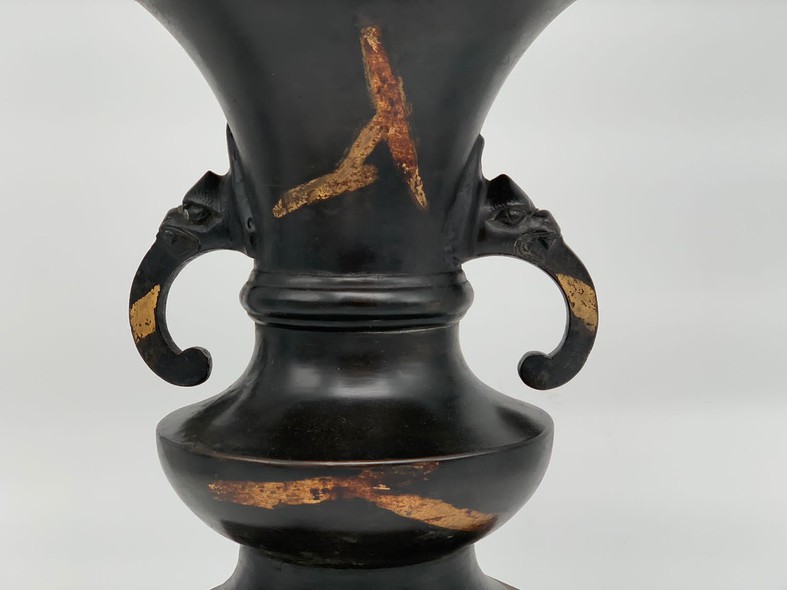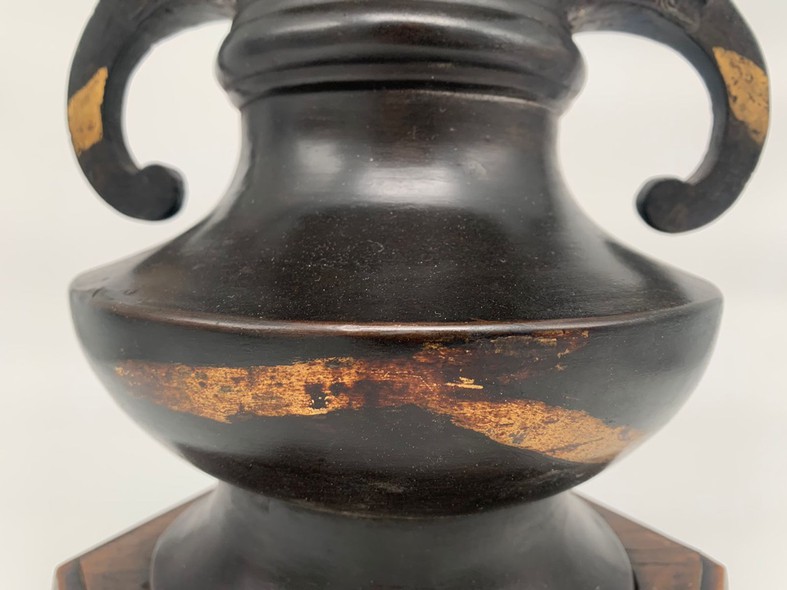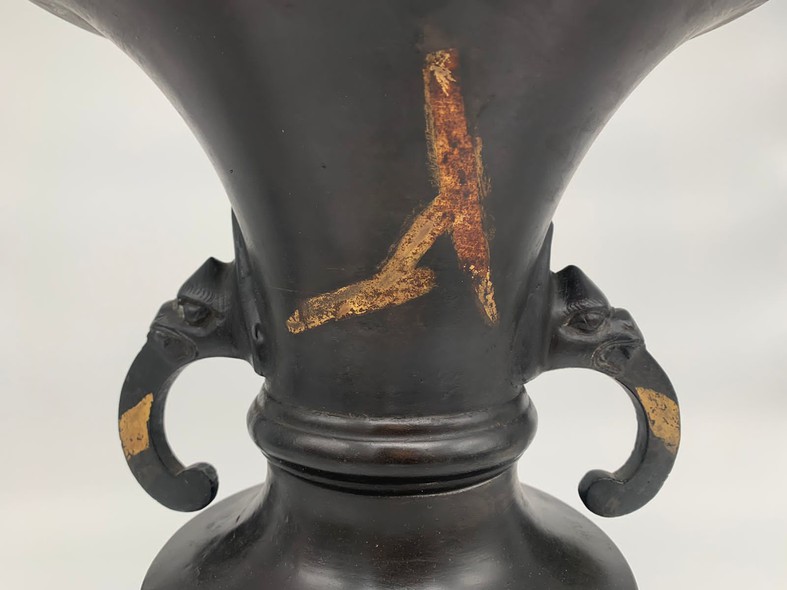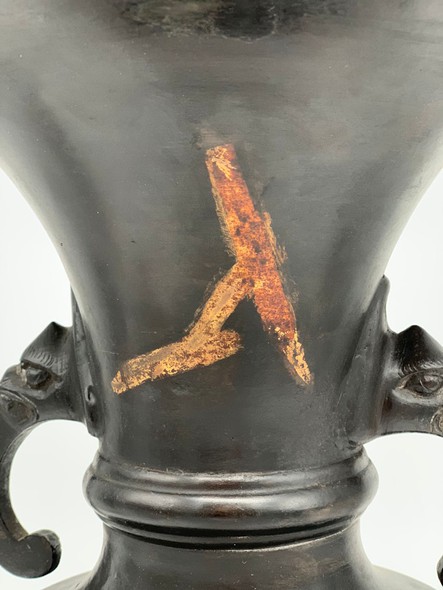 Decorative vessel Japan, Edo period (1603-1868) Bronze; casting, engraving; urushi lacquer, gold; stand - wood, carving. The height with the stand is 36.5 cm. The vessel with a high leg widening downwards, a short wide body with a fracture, and a high neck with a bell is a characteristic form of ritual vessels for temple and domestic altar compositions. The loop-shaped handles of the vessel 2 are made in the form of heads of mythological creatures, from the mouths of which handles-tongues of rectangular section descend to the body. Bronze is covered with a noble patina of dark, almost black color. The shape of the vessel goes back to the ancient Chinese bronze vessels of the gu (簋) type of the 11th-10th centuries. BC, which were used as sacrificial and filled with wine. This form passed into the Buddhist rite and spread to Korea and Japan, where similar altar jars were made of bronze, porcelain or carved stone. A common inscription is placed on one side of the vessel, from which it follows that this product was made (or presented to the temple) in the 7th lunar month of the 6th year of the Tenpo era (1830-1844), that is, in the summer of 1836, by order of "truly revering Buddha by the wife of Mr. Akira - Muromasa Satoko "(as indicated in the inscription). Such inscriptions are typical for votive objects, that is, those presented to Buddhist temples as a gift to a deity by vow, for the sake of fulfilling some desire or ensuring the family's well-being and prosperity. Judging by the finely engraved inscription, the donor of the item was a woman from the noble house of Muromasa (probably Murosaki), who had sufficient financial independence to order expensive bronze items; perhaps on the occasion of a temple holiday or one's own pilgrimage. A unique feature of this ritual vessel is the application of thin gold foil on Japanese urushi lacquer, freely applied on the opposite side of the object from the inscription. Several wide strokes are placed on the body, the throat bell, one short stroke each decorates the handles of the vessel. It is likely that this spectacular abstract decoration was added later, during the temple existence of the vessel in the late 1840s - 1850s.
Decorative vessel with handles from the Edo period
298 000

Added in Request List

Decorative vessel with handles from the Edo periodRef nr. 02_0951
Галерея «БерсоАнтик» принимает на комиссию и покупает предметы антиквариата!