Antique clock "Owl", majolica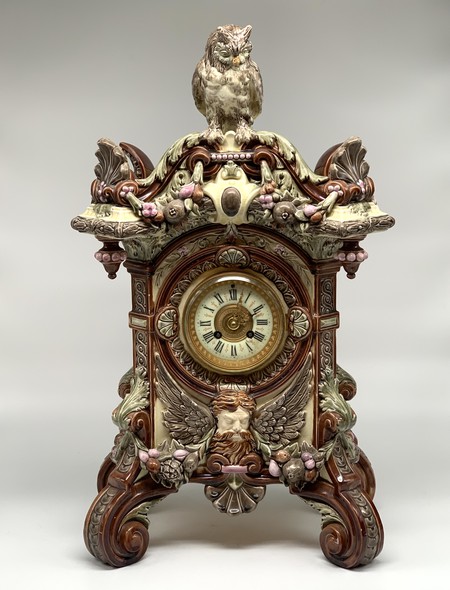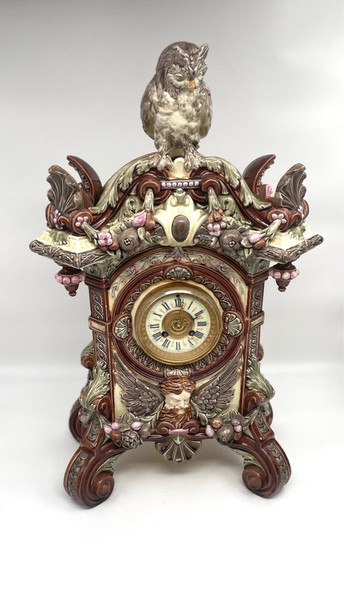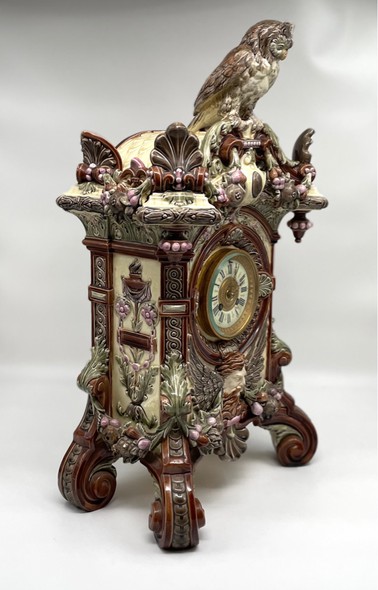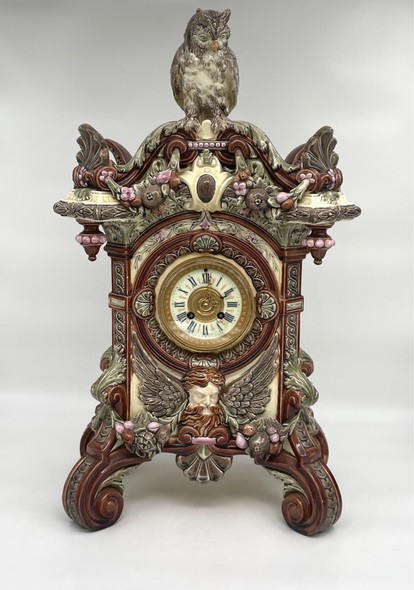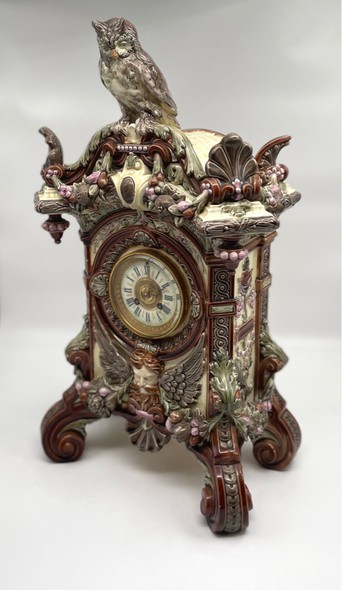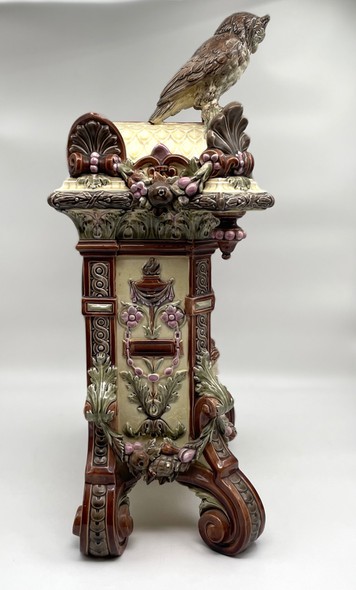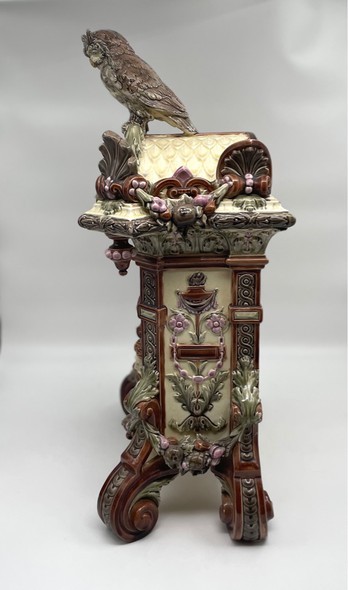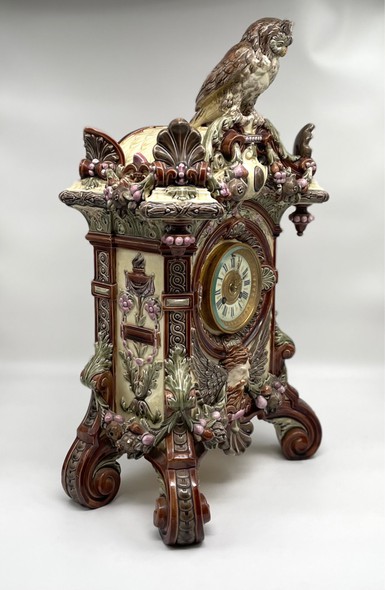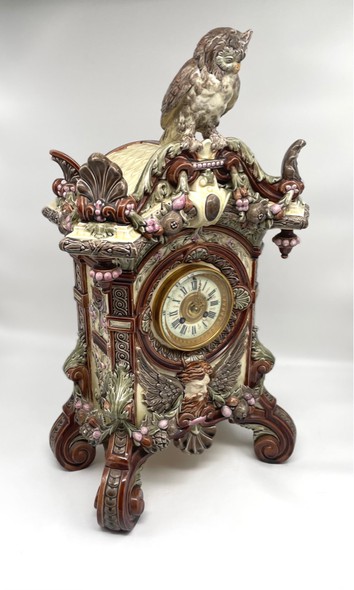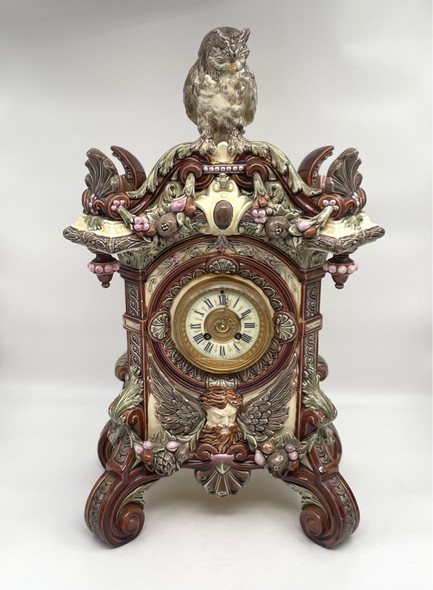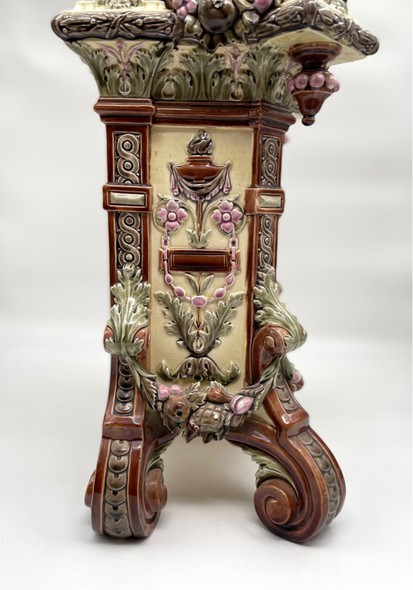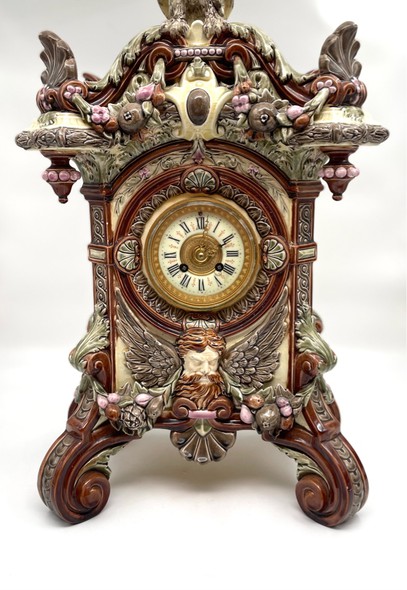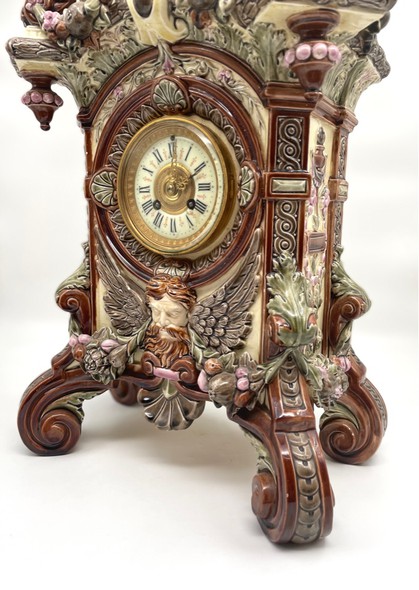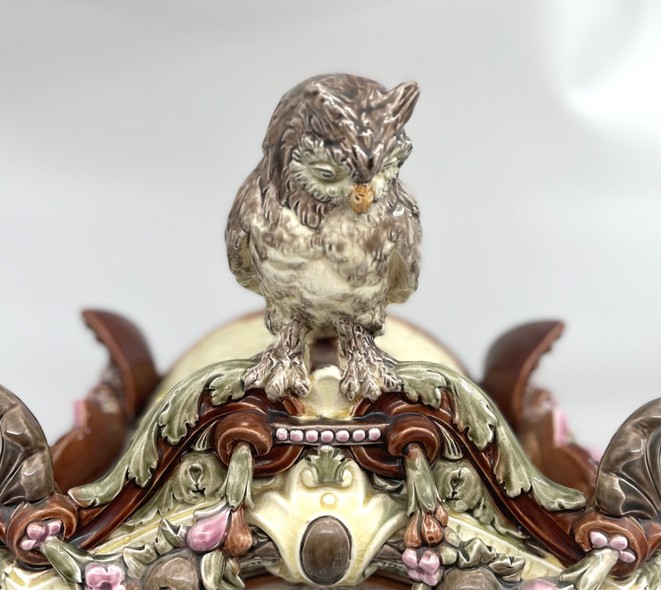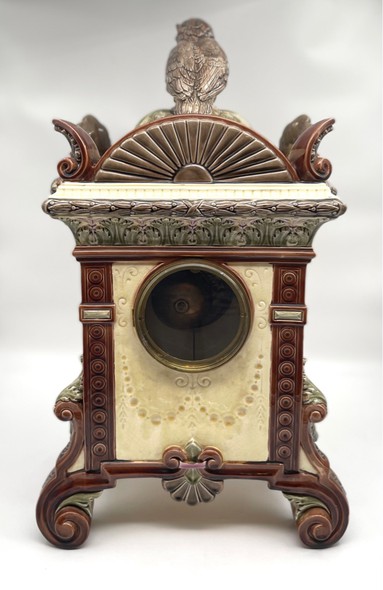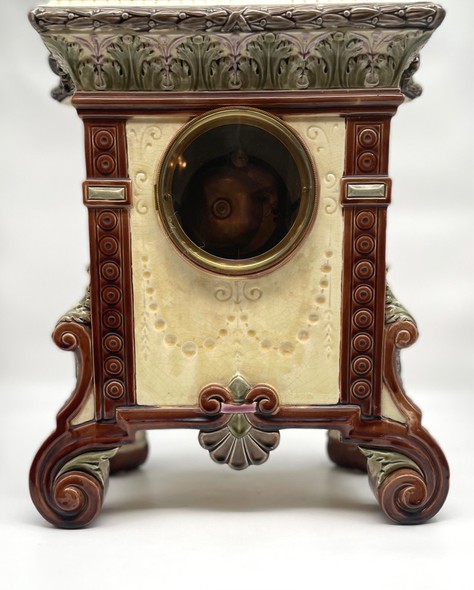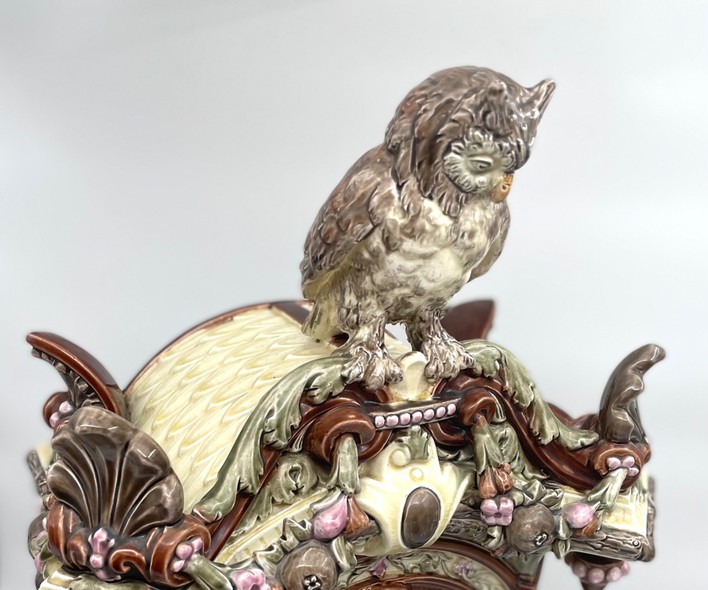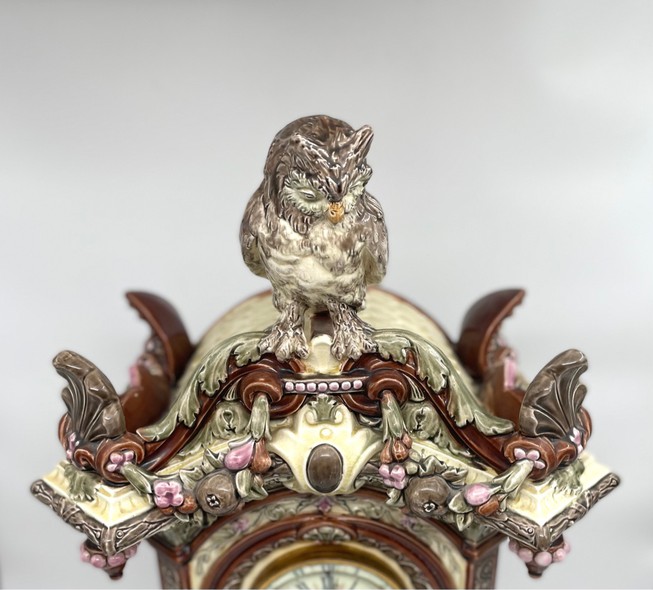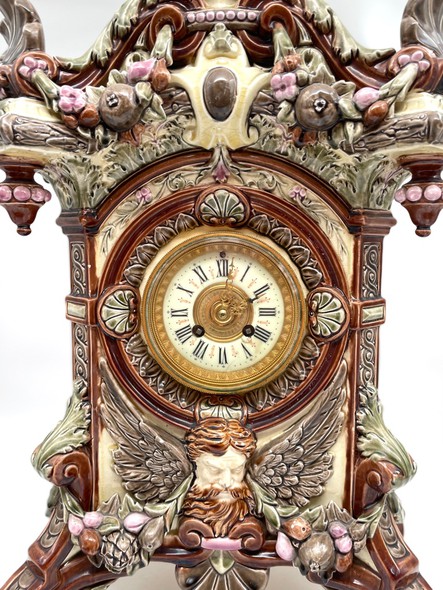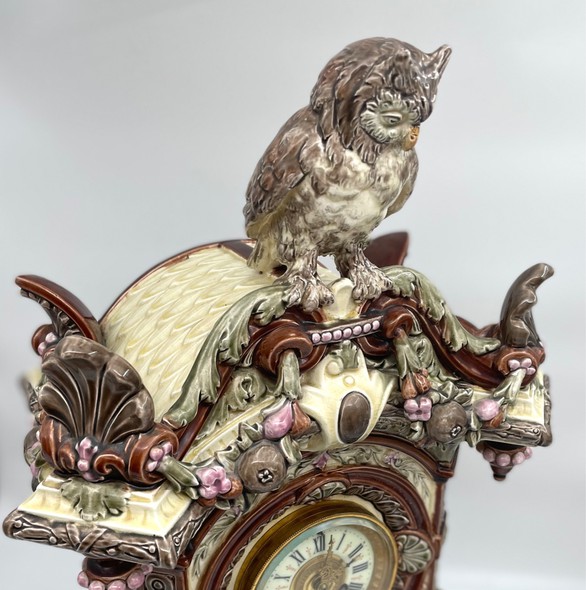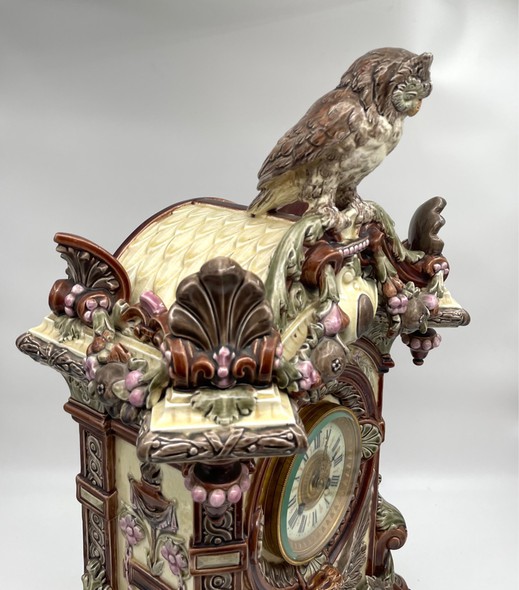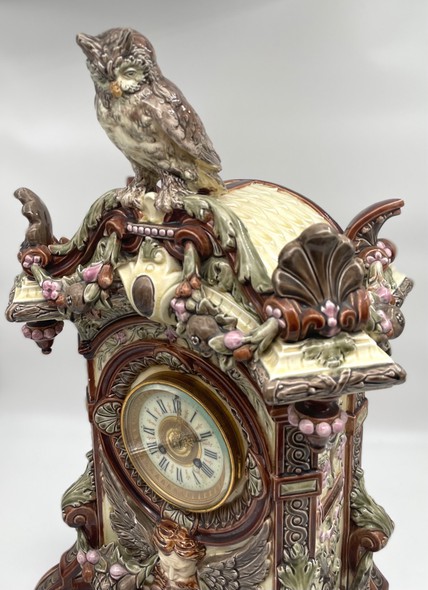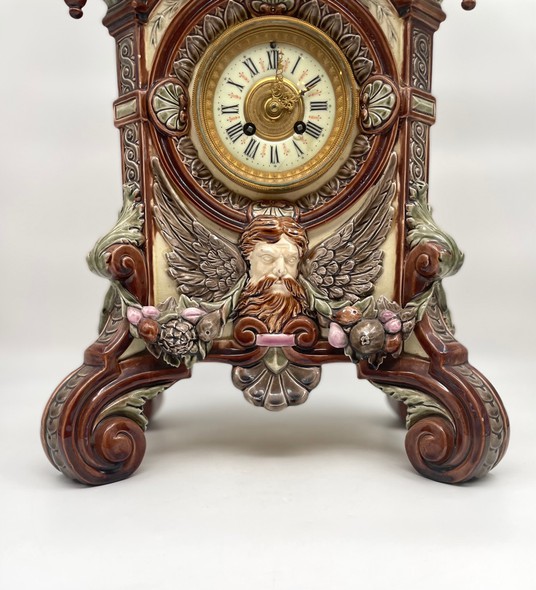 Antique baroque clock "Owl". Majolica. Europe, XX century
Majolica is a type of ceramics. The clay product is coated with a special glaze, then painted and fired. The first majolica appeared in the ancient world: Egypt, Mesopotamia and the Phoenician state. At that time, many panels were created, which were used to decorate the walls in the houses of the nobility. Majolica was popular in countries that professed Islam, which forbade the use of gold utensils and household utensils for the kitchen made of silver. Majolica was designed to imitate precious metals, objects made of clay were covered with a chandelier - glaze.
There are two definitions in Latin: majolica/maiolica. They can sometimes be interchanged, but this can cause confusion. The origin of the two names originated in the XIV century. Made in Spain on the island of Mallorca, faience pottery was highly valued for its clean background and bright decor. The name maiolica was first used by the Italians for Renaissance pottery. When the production of glazed clay pottery began in Italy, this pottery was called majolica. (maiolica)Renaissance ceramics very soon became an object of admiration and collection, becoming more and more rare. European ceramists were eager to create their own versions to meet demand.
At the Great Exhibition of 1851, the Minton Manufactory of Stoke-on-Trent displayed their relief, brightly colored, glazed earthenware called "Palissy" after the eponymous sixteenth-century French potter. A critical and commercial success, production soon spread to other potteries.
Simultaneously, Minton and other factories were producing glazed versions of Italian Renaissance majolica, which by the nineteenth century was also known in Britain by the anglicized name majolica. These two styles have evolved over the century, resulting in some of the most daring designs of the Victorian period, particularly suited to decorative interiors and use as functional tableware.
By the end of the nineteenth century, both styles became intertwined under the single name majolica, which is still used today to describe Renaissance ceramics. In the 1870s, to reduce confusion, curators at the South Kensington Museum (now the Victoria and Albert Museum) made a clear distinction between Renaissance majolica and nineteenth-century majolica.
By the end of the nineteenth century, majolica had become the accepted term for lead-glazed pottery (majolica), and maiolica for all Italian glazed earthenware.
The distinction (majolica for nineteenth-century lead glaze and maiolica for Italian tin glaze) is still generally accepted in Britain. There is a wider debate internationally about whether all Italian tin-glazed faience, including later production in factories such as Cantagalli and Ginori, is classified as maiolica, or whether nineteenth-century production is actually majolica (here the term is used). to define ceramics) of later production, not other techniques).
Majolica (maiolica) and majolica (majolica) are perhaps the names of ceramics, which are destined to constantly develop.
Antique clock "Owl", majolica
860 000

Added in Request List
Antique clock "Owl", majolicaRef nr. 02_2170
Галерея «БерсоАнтик» принимает на комиссию и покупает предметы антиквариата!